Perzonalized Therapeutics

RBH develops a specific treatment plan for each individual based on an individualized assessment of cognitive, behavioral, emotional, and interpersonal functioning.  We believe that the therapeutic solution for each person is found based on a comprehensive understanding of that individual's strengths and needs.

Brain-Based Assessment and Intervention

RBH believes in the power of Neuroplasticity – or the brain's ability to change itself based on experience and feedback. RBH offers specific assessments of the brain's neurophysiological and neuropsychological functioning and offers many unique neurotechnologies designed to enhance brain function, thereby reducing symptoms and improving overall functioning.

Mind-Body Health and Wellness

RBH treatment interventions are based in the importance of a developing a healthy mind-body connection that promotes stable central nervous system functioning. Keeping the brain and body healthy allows for improved mindfulness, emotional and behavioral regulation, and peak performance.  RBH offers a number of state-of-the-art interventions to help you achieve a Brain Healthy Lifestyle that will allow you to function at your best!
RBH CONTINUES TELEHEALTH VISITS AND BEGINS SOME IN CLINIC SERVICES STARTING MAY 4, 2020
Please take note of the following RBH Appointment Guidelines to optimize your safety and well-being during the COVID-19 pandemic.
IN-CLINIC SERVICES:
Starting in May, 2020, RBH will offer a low volume of In-Clinic Services including intakes, testing, test results, and therapy.
QEEG and Neurofeedback services will remain suspended until June 2020.
The following clinical team members will be available on a part time basis in clinic during the month of May:
Melinda Down, Ph.D
Ami Bhatt, Psy.D.
Joanna Baugh, LPA
Staci Johnson, LPC
Jeremy Cruz, LPC
Jim Roberts, LPC
Theresa Orsinger, LPA
Please call 210-858-1900 to schedule all appointments.  Below are the RBH COVID-19 Appointment Guidelines to help you decide whether you would like to come in clinic for your service or receive your service via telehealth.
IN CLINIC SERVICES:
If you are well and have NOT had any known exposure to COVID-19, then you may receive your healthcare services in clinic on the days that your clinician will be in the clinic.  Please call 210-858-1900 to schedule all appointments.  Please adhere to the following safety precautions upon arrival to the clinic:
We do ask that you bring a mask/face covering for use in the public spaces of the clinic.
We ask that you complete a temperature check and wash your hands upon entry into the clinic. The building offers public bathrooms near the elevators, so please make plans to wash your hands before entering the clinic.
Hand sanitizer will be available at check in for your use.
In order to allow for adequate social distancing within the clinic, we ask that you call us from the parking lot when you arrive so that we can let you know when to come up to the waiting room. We request that you remain 6 feet apart from other patients in the clinic.
Each patient is requested to come to his/her session alone. For children, we ask that only one parent attend the session to keep the volume of traffic down in the clinic space.  We also ask that siblings or any other friends or family members NOT wait in the waiting room.
Please follow CDC guidelines regarding coughing and sneezing etiquette (cdc.gov)
 TELEHEALTH SERVICES:
If you prefer for any reason, you can request to receive your services via telehealth at this time.  QEEG Brain Mapping, Neurofeedback, and extensive Neuropsychological Testing are NOT available via telehealth.
Telehealth is recommended if:
you are, or have within the last 72 hours, experienced any signs or symptoms of COVID-19, including fever, cough, shortness of breath (you can find a complete list of COVID-19 symptoms at CDC.gov)
you have been diagnosed with COVID-19 in the past month, you must have tested negative 14 days before coming into the clinic.
you are in a vulnerable or high-risk patient population (elderly, comorbid medical illnesses, compromised immune system)
you have knowingly been exposed to anyone with COVID-19 within the last 14 days.
you have travelled to another city within the last 30 days.
Thank you, and we look forward to assisting you at Restore Behavioral Health!
Additionally, RBH is pleased to offer the following benefit for health care workers on the front lines in the fight against the COVID-19 pandemic!
Our address is:
1314 E. Sonterra Blvd.
Suite 2208
San Antonio, Texas 78258
We are located directly Across from Methodist Stone Oak Hospital at the corner of 281 and Sonterra Blvd.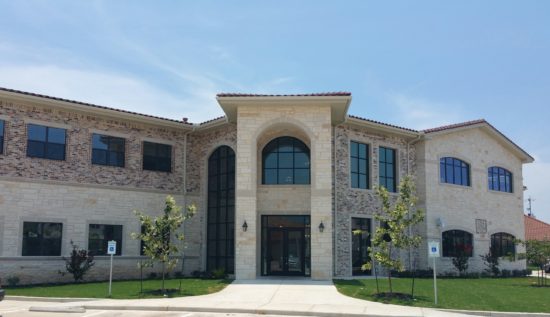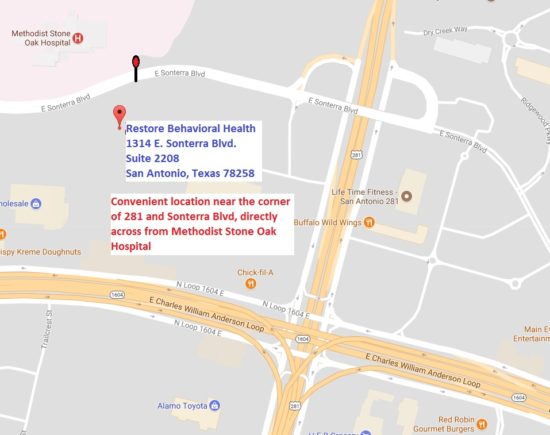 Map of new RBH Clinic Location