Perzonalized Therapeutics

RBH develops a specific treatment plan for each individual based on an individualized assessment of cognitive, behavioral, emotional, and interpersonal functioning.  We believe that the therapeutic solution for each person is found based on a comprehensive understanding of that individual's strengths and needs.

Brain-Based Assessment and Intervention

RBH believes in the power of Neuroplasticity – or the brain's ability to change itself based on experience and feedback. RBH offers specific assessments of the brain's neurophysiological and neuropsychological functioning and offers many unique neurotechnologies designed to enhance brain function, thereby reducing symptoms and improving overall functioning.

Mind-Body Health and Wellness

RBH treatment interventions are based in the importance of a developing a healthy mind-body connection that promotes stable central nervous system functioning. Keeping the brain and body healthy allows for improved mindfulness, emotional and behavioral regulation, and peak performance.  RBH offers a number of state-of-the-art interventions to help you achieve a Brain Healthy Lifestyle that will allow you to function at your best!
RBH CONTINUES TELEHEALTH VISITS AND BEGINS SOME IN CLINIC SERVICES STARTING MAY 4, 2020
Please take note of the following RBH Appointment Guidelines to optimize your safety and well-being during the COVID-19 pandemic.
Why RBH?
There are a lot of choices when it comes to finding the best behavioral healthcare. Below is an overview of our unique treatment philosophy and service offerings to help you decide if RBH is the right clinic for you and your family.
TEAM: We are passionate about the work that we do and offer a fantastic, multidisciplinary team of Licensed Psychologists, Licensed Clinical Social Workers, Licensed Professional Counselors, and Licensed Psychological Associates for your behavioral health needs.
SPACE: We have been blessed with a calm, uplifting, beautiful clinic space conveniently located near the corner of 281 and Sonterra Blvd across from Methodist Stone Oak Hospital in San Antonio, Texas! Enjoy!
IN PERSON: We prefer to meet with our patients in person whenever possible. While telehealth is available to our current patients when clinically indicated, it is not our primary modality of care.
ACCESS: We always accept new patients and work with all ages!
BENEFITS: We accept most major insurances including BCBSTX, Aetna, United, Humana, Cigna, and Tricare and have a terrific team of billing specialists to help with your benefits verification, insurance claims, authorizations, and patient account questions.
SCHEDULING: Our front office team of scheduling specialists are available Mon – Fri 9:00am to 6:00pm to help you with your appointment scheduling. We also offer Saturday appointments! We offer the convenience of viewing and checking-in for your appointment schedules via the Healow app on your mobile device. Consent forms, copays, and questionnaires are a breeze with our In-Clinic Kiosk.
CORE: It is our core belief that each individual patient/family system has an innate ability to heal and tap into their strengths, talents, passions, joy, love, and abilities once we can remove the obstacles of trauma, grief, stress, depression, anxiety, relational difficulties, self-concept problems, and inefficient brain function. You've Got This!
ANALYZE: We take our time getting to know you and your family by offering Comprehensive Diagnostic Assessments and Neuropsychological/Neurodevelopmental Evaluations so that we can arrive at an accurate diagnosis and a well-informed treatment plan.
SHARE: With your consent, we prefer to have good coordination with your other healthcare professionals as we believe this coordination leads to a higher level of care.
KNOW: We believe that it is important to get to know what is going on with each individual patient's brain function in order to help you reach your peak performance. We offer personalized QEEG Brain Maps to "look under the hood" and personalize your treatment to your unique brain signature.
SHIFT: We offer innovative, holistic, neuromodulatory interventions (Neurofeedback Training -Traditional and Lens- , Neurofield Neurotherapy, Photobiomodulation, CES, and AVE ) to guide your brain towards a greater state of balance and flexibility so that you can function at your best!
THINK: We are committed to helping our children do better in school with natural, noninvasive neurotechnologies (Interactive Metromome, The Listening Program, Brain HQ Neurocognitive Training, Auditory/Visual Brainwave Entrainment, Neurofeedback). These tools help to boost focus/attention, executive functioning, cognitive processing efficiency, auditory/visual memory, learning, and emotional/behavioral regulation.
HEAL: We offer specialized trauma-based therapies (EMDR, CES, Deep States Therapy, DBT, Neurofeedback) to help you resolve past and current trauma once and for all.
CHANGE: We offer Cognitive Behavioral Therapy, Family Systems Therapy, and Supportive Psychotherapies to help empower you to actualize the changes you wish to make in your life and fight off stress, depression, anxiety, and relational problems.
RELAX: We offer advanced tools like the Alpha-Stim, HRV training, Neurofield Body – Inflammation Reduction & Parasympathetic Stimulation, and Vagal Nerve Reset, Full Mat BRT/PEMF, Brainwave Based Meditation, Mindfulness Training, HRV Biofeedback, and Progressive Muscle Relaxation Training) to help you shift into a state of parasympathetic nervous system dominance. Restore, Rebalance, Re-energize!
COMMUNITY: There are times when patients face a short waiting period to be seen by a provider who is credentialed with their insurance plan. RBH offers our reduced-fee Community Care Clinic program for early access to care during this waiting period.
URGENT: RBH is availlable M-F 9:00am-6:00pm and Sat 9am- 4:00pm. We make our best effort to work in urgent cases for same or next day appointments. We also facilitate coordinated referrals to inpatient psychiatric care as needed for crisis intervention.
TRAIN: We believe that it is important for our clinic to play a role in training the next generation of professionals and invite Postdoctoral Residents, Master's Level Practicum Interns, and LPC Associates to decelop their professional skills at our clinic while assisting our clinical service team.
Please call us to schedule a New Patient Appointment if you feel that RBH is the right place for you!
We wish you all the best in your steps toward greater psychological health!
Thank you, and we look forward to assisting you at Restore Behavioral Health!
Additionally, RBH is pleased to offer the following benefit for health care workers on the front lines in the fight against the COVID-19 pandemic!
Our address is:
1314 E. Sonterra Blvd.
Suite 2208
San Antonio, Texas 78258
We are located directly Across from Methodist Stone Oak Hospital at the corner of 281 and Sonterra Blvd.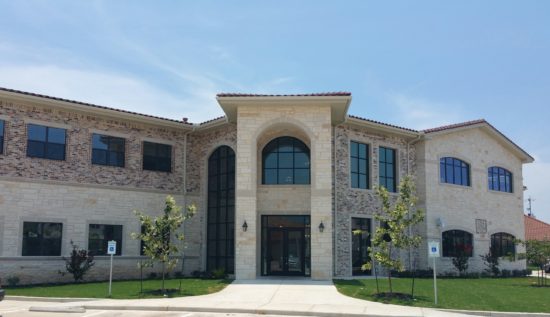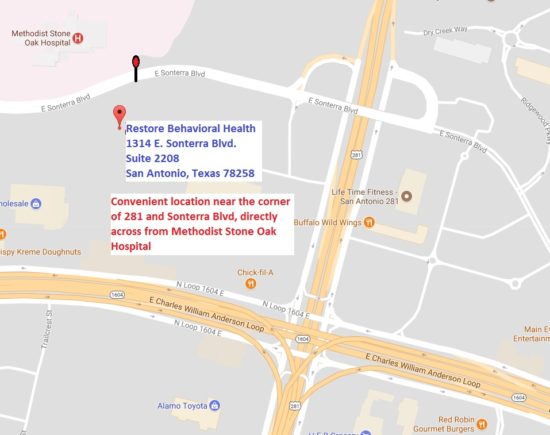 Map of new RBH Clinic Location